NATIONAL

AWARD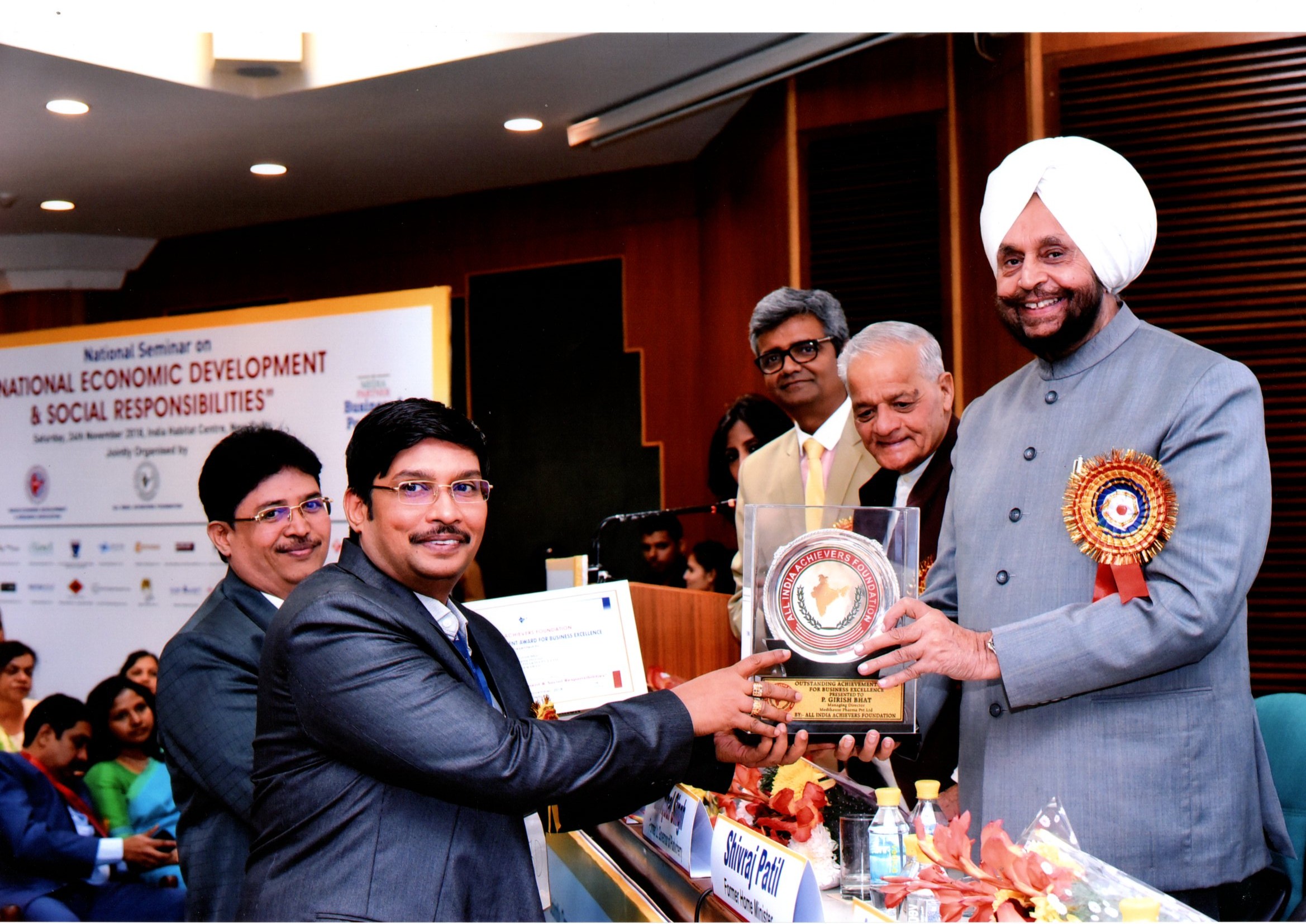 MR.P.GIRISH BHAT MANAGING DIRECTOR & MR P.MANOHAR BHAT DIRECTOR (MEDIHAUXE PHARMA PRIVATE LIMITED) RECEIVE A PRESTIGIOUS AWARD (.NATIONAL AWARD) FOR OUTSTANDING ACHIEVEMENT FOR BUSINESS EXCELLENCE—IN NEW DELHI.
MOMENT TO BE CHERISHED & PRESERVED
FELICITATION ACCORDED BY---ALL INDIA ACHIEVERS FOUNDATION FOR WORLD WIDE BUSINESS KNOWLEDGE, ACHIEVEMENTS, ECONOMIC DEVELOPMENT, GROWTH & SOCIAL RESPONSIBILITIES. A VERY PROUD MOMENT INDEED.
BOTH MR. GIRISH BHAT & MR. MANOHAR BHAT , have made a measurable impact over the past 25 Years as a passionate Healing touch providers with the service for all those afflicted with serious health issues.(those having Oncology issues, Neurology, Nephrology, cardiology & many such life threatening diseases ). Their Service Oriented Pharma distribution activities are as varied as their skills, and they include: working with patients to help them understand and overcome the fear of their diagnoses; simply acting like a friend to those who are most in need & scared of the dreaded disease. They have also directly and personally contributed for cancer research organization as a participant in the Oncology Conference conducted by Indo American Cancer Hospital, Hyderabad. Results of their, Tireless 24X7, has,--

1. encouraged and exemplified the virtue of good citizenship;
2. touched or enriched the lives of many others, particularly those who are vulnerable or less able to help themselves; Financially in particular.
3. shown immense initiative and dedication
4. devoted themselves to sustained and selfless mission to save a precious life.
5. earned the respect of their peers, Pharma Distribution community and became a role model in their chosen field.
6. Demonstrated innovation or creativity in delivering this pious and life saving service.